Food business is a lucrative source of finances for some lucky individuals. Running this type of business is both intoxicating and challenging. It cannot be denied that even you are cautious in managing a restaurant; problems may arise, such as bankruptcy, damage to property, theft or lawsuits. A business plan along with restaurant insurance is necessary to minimize problems in the future, and enable you to focus on serving the best cuisine in town.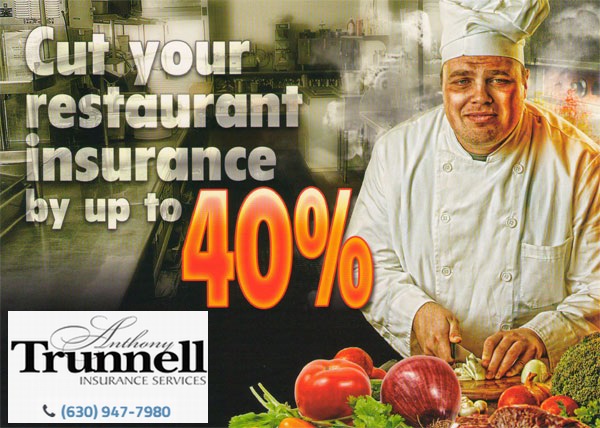 Here is the coverage you get from restaurant insurance Naperville:
General liability coverage
Compensation for workers
Property damage
Coverage for Income Loss
Bankruptcy coverage
Identity theft coverage
Coverage for important papers
Lawsuits
Categories of Restaurant Insurance Naperville
Having an insurance to get your business covered is not enough; especially it is engaged in food. Food poisoning, fly in the coffee and hair in the food are common complaints that restaurateurs receive from their customers. Are you ready to face the court when an untoward incident ensues later that will cost you millions of dollars for damages? If not, then get a restaurant insurance Naperville that can be categorized into different types of insurances depending on the field you are concentrated such as:
Catering insurance coverage
Cafeteria insurance coverage
Bar insurance
Delicatessen insurance
Diner insurance
Bar insurance
Lounge insurance
Café insurance
Pizza restaurant insurance
Fast food insurance
Food delivery insurance
If you plan to put up a food business in Naperville, make sure you are familiar with the above-mentioned coverage and abide by the state law to prevent legal issues because of ignorance and absence of precautionary measures.
Always Consider Restaurant Insurance Naperville
Entrepreneurs who are planning to put up a food business in Naperville should consider buying a liability insurance that surely guarantees them protection while enjoying the fruits of their labor. Restaurant insurance Naperville provides answers to your business in case it suffers from loss of income, fire, theft and lawsuits. This insurance policy comprises wide aspects of your food business. Find out from our agents if you are eligible to have restaurant insurance. We provide quick online application and flexible options for payment.
Why not call us now (630) 947-7980?